The Knowledge Network Mining Encounters and Indigenous Sustainable Livelihoods (MinErAL Network) is pleased to announce the creation of the International Associated Laboratory (Morocco-Quebec): Sciences environments, societies and mining activities (LIA Sesam)!

Members of the Mohammed V University of Rabat and Laval University, as well as numerous officials and partners from the academic community, gathered on May 11, 2023, in Morocco to celebrate its creation.

LIA SESAM is the first international laboratory associated with Laval University on the African continent.

You can read the press release here.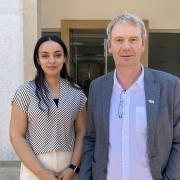 The new laboratory will be co-directed by Mouna Fahr, professor at the Faculty of Science and member of the Biotechnology and Physiology Laboratory at Mohammed V University  and Thierry Rodon, professor at the Faculty of Social Sciences of Laval University and holder of the INQ Research Chair on Northern Sustainable Development!